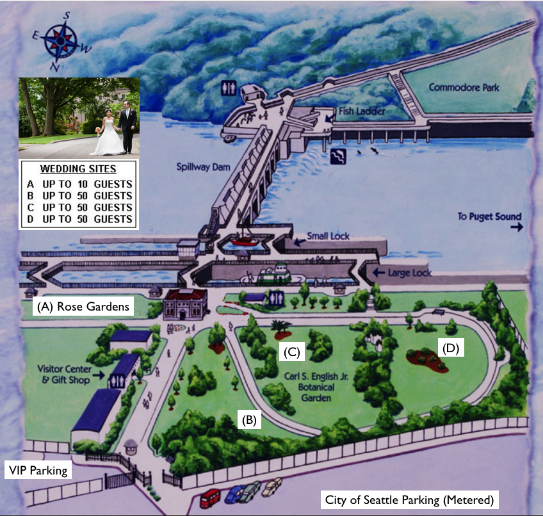 On the map, note maximum wedding party size per loccation. 50 person limit applies to both weddings including photography only groups.
The Locks has small group (up to 50 persons) wedding sites that are a viable alternative to the City of Seattle Parks which charges $300-$750 (non-refundable) for similar wedding venues.
Instead of a fixed rate, we do accept donations which go towards much needed visitor related improvements, including the Carl S. English Garden where weddings are held. Suggested donations (refundable, if plans change) are $10/person and range from a minimum of $100 to a maximum of $250.
Note that Commodore Park located on South Side of the Locks is operated by the City of Seattle.
Weddings or outdoor events at Commodore Park must be scheduled through the Seattle Parks District.

To Register & Donate, Select Desired Date Below:
A permit is not required for Photography only (groups up to 50 limit), but let us know so we can avoid issues. Also photography not require a reservation and any donations can be made at the visitor center.