Discover the challenges in building this amazing engineering marvel and what it takes to keep a century old facility working. Go inside the historic administratin building, not normally to the public. If avaialble, tours will include Q&A with Army Corps Engineers who manage and maintain the Locks.
Custom private tours include many subjects not available on the free scheduled tours and are tailored to your desired time and specific interests. Tours are subject to availability of a custom tour guide.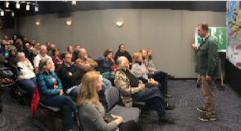 A donation of $250/tour is suggested. All donations are used to support educational programs at the Locks.
.
After your custom tour is confirmed, click below to select your confirmed date, go to tickets to register and donate. This will confirm your tour. Note that your donation is fully refundable if, for any reason, the tour does not take place.
Tour groups are limited to 25 people and last about 1 ½ hours. Each tour will begin in the visitor center theater with a short presentation, including safety guidelines for non-public areas.